Charlie did
The 15th annual World Pie Eating Championship was thrown into chaos when a pet pooch ate all the pies.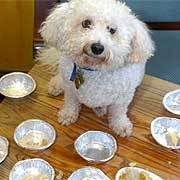 Former champion Dave Williams had been entrusted with the pies, specially made for the contest in Wigan.
But as he was taking delivery of them, he was distracted by a pigeon stuck up the chimney and left the fridge door ajar.
When he returned, he found his dog Charlie had pounced - and scoffed the lot.
The eight-year-old bichon frise is now not Wigan's favourite animal.
More at source